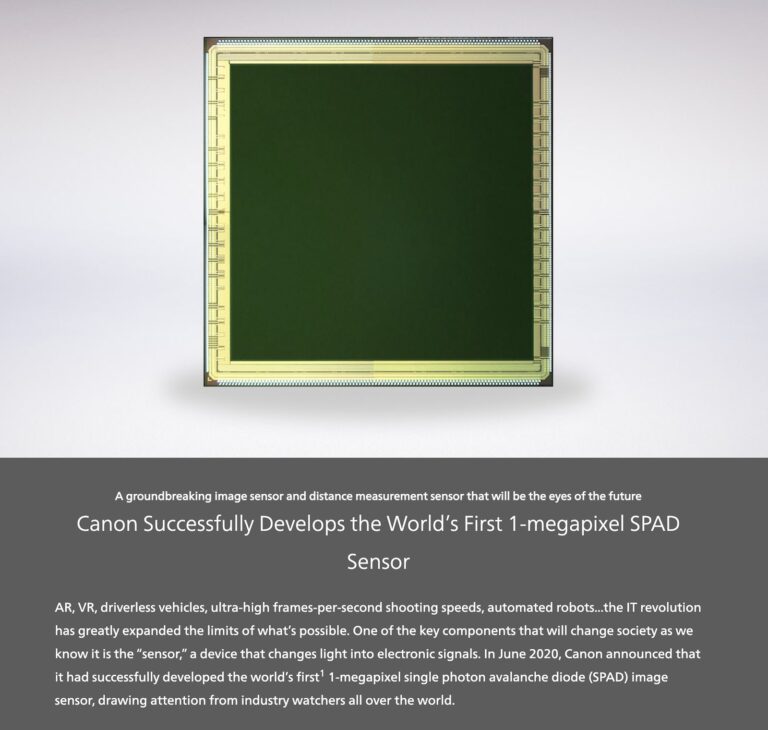 Canon has developed an image sensor that enables high-quality color photography even in the dark. The CMOS sensor used in digital cameras can recognize up to about one-tenth the brightness of light that can be detected, and can take clear pictures even in situations where nothing can be seen with the naked eye. It will be mass-produced from 2022. It may lead to improved image recognition performance in a wide range of industrial applications such as autonomous driving and crime prevention / monitoring.
We have developed a light receiving element called a SPAD (single photon avalanche diode) image sensor. You can shoot clear color images even in total darkness, which was difficult with the CMOS sensor. The number of pixels of the sensor that holds the key to the sharpness of the image is 3.2 million pixels, which is more than three times that of the conventional SPAD, which is the highest in the world.
The SPAD sensor also has the feature of measuring the distance to the object from the time it takes for the reflected light from the object to return, and capturing the space in three dimensions. Therefore, it is expected to be used in a wide range of fields such as the high-performance sensor "LiDAR" that is indispensable for autonomous driving and augmented reality (AR).