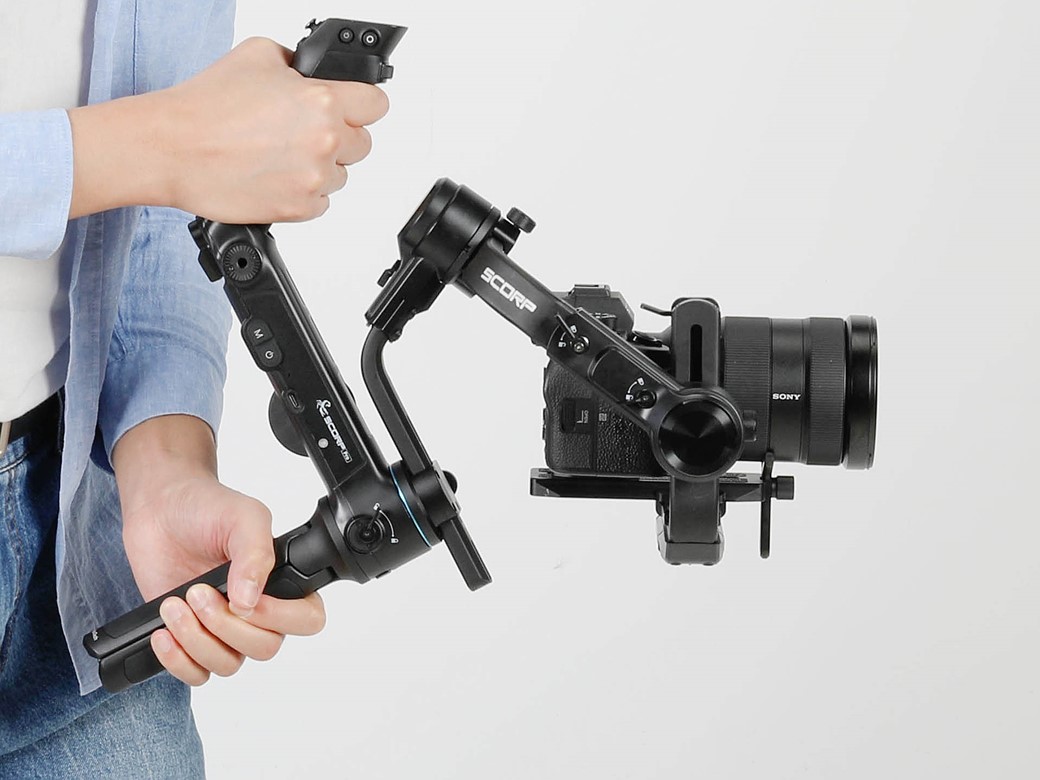 The SCORP series has an integrated modular molded design with 3/8 inch threaded hole (works as 1/4 inch with adapter), quick release plate compatible with the ARCA release system, the ability to extend through extension poles, tripods, and slide rails, SCORP app; and includes a folding Aileron bracket with no tripod needed. A wide variety of cameras are supported, including DSLR and mirrorless cameras from Sony, Canon, Panasonic, Nikon, and Fujifilm - see full list of cameras supported:
SCORP Gimbal with Social Media Modes
The SCORP gimbal is built for smooth video creation for vloggers, content creators, and social media influencers. Featuring a lighter design at 2.6 lbs with a 5.5lb load capacity, the SCORP has a one-touch OLED touchscreen so influencers have instant access to popular social media modes: VLOG selfie, TikTok portrait shooting, Long Exposure Time Lapse, and more. With its interactive design, it's easy to get started quickly, with most modes accessible through the 1.3-inch display and fast acting "Magic Wheel" without the need of using the SCORP app. Changing camera set-up is also fast, with the quick release plate and optional camera backing base compatible with the ARCA quick release system. Battery life is 13 hours, with fast charging in 1½ hours with the USB-C quick charging port and dual USB ports.

SCORP Pro for Supreme Flexibility & Power
The SCORP Pro is made for professional cinematographers and videographers. The professional video camera gimbal is equipped with a detachable under-grip touch screen, ARCA bottom port, electronic focus motor for autofocus follow focus with three point focus memory, and a dual handle grip. The SCORP Pro's detachable handle works as a remote control that supports Somatic mode and its integrated hanging handle can be switched to different angles for use in a greater variety of different shooting scenes. The gimbal's built-in vertical mounting plate allows the camera to be installed on the gimbal in portrait mode without extra accessories and ARCA quick release base plate at the bottom of the gimbal quickly mounts the gimbal on popular quick release systems without re-assembling the camera. The gimbal's greater load capacity, at up to 10.5 lb (4.8kg) allows for the use of a wider variety of professional cameras and lenses.

SCORP Series Features:
Powerful anti-shake.
1.3-inch OLED touchscreen for operation without the need of the app. Directly sets up parameters and changes follow modes from the screen.
One touch icons for direct start-up, timelapse, VLOG selfie, TikTok portrait mode, and other popular shooting modes.
A-B point trajectory memory for one button movement to set up automatic focus.
Rechargeable battery with up to 13 hour battery life features USB-C quick charging port for full charging in only 1½ hours.
Dual USB ports available for external focus motor and zoom.
AutomAtic customizable button with functions for motor power, follow speed, language, additional cameras and lens. etc.
Optional wireless microphone kit for better audio.
Center of gravity memory slider makes balancing easier.
Cable Controls.
Body is made of aluminum alloy and synthetic macromolecular resin.
Rotatable range: Tilt: 340°(with limitation), Roll: 340° (with limitation), Pan: 360° (unlimited).
Controllable range: Tilt: +110°~-45°, Roll: +20°~-20°, Pan: 360° (unlimited).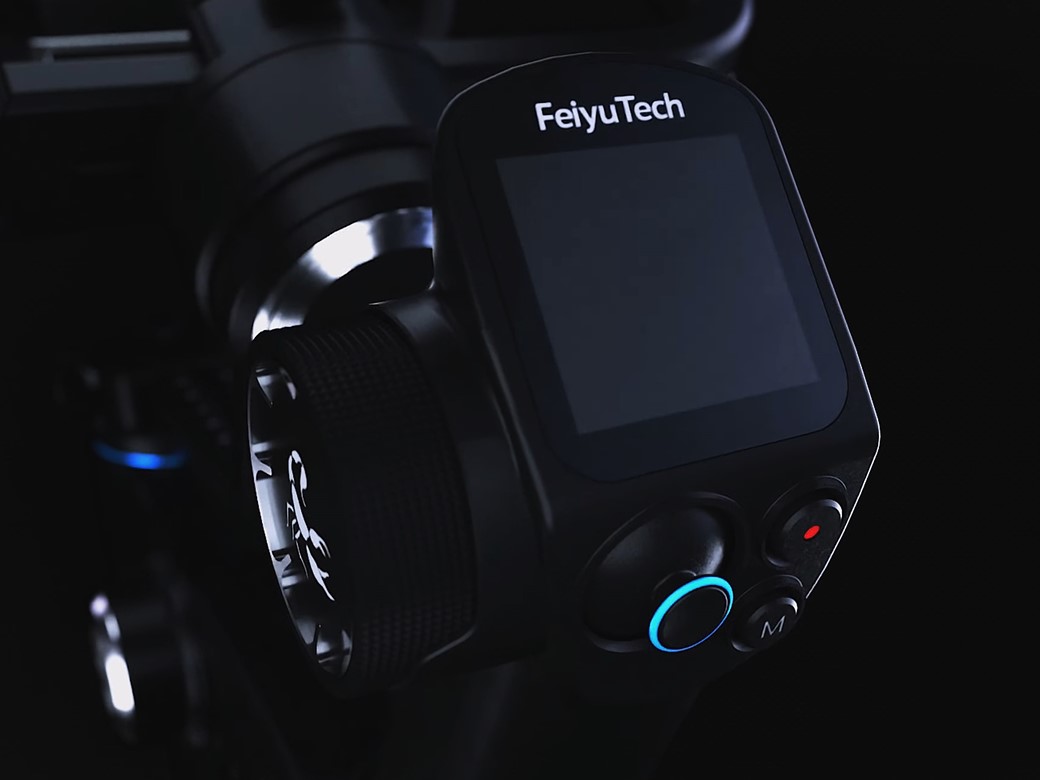 Availability & Pricing
Available immediately, the SCORP is priced at $429, and the SCORP Pro is priced at $659