Shenzhen, China, April 15, 2021 - After creating a stir in the market with the introduction of the LARK 150, the worlds' smallest wireless microphone system for video or audio content creators, Hollyland today announces the availability of its LARK 150 Solo Kit as a budget option for individual vloggers. The single LARK 150 Transmitter is also available now, as an open option to upgrade the Solo Kit to the 2-person duo package. The Solo Kit is a cost-effective option for vloggers and filmmakers shooting in single presenter mode. Building on its wireless video transmission and intercom systems expertise, the LARK 150 is Hollyland's first digital wireless microphone system. Featuring an ultra-compact, clip-on design system, it offers an ever-reliable, professional sound quality that's ideal for vlogging, YouTube presentations, commercials, live streaming, and other video contents.
Enable images or just imagine how amazing the Hollyland Lark 150 looks like..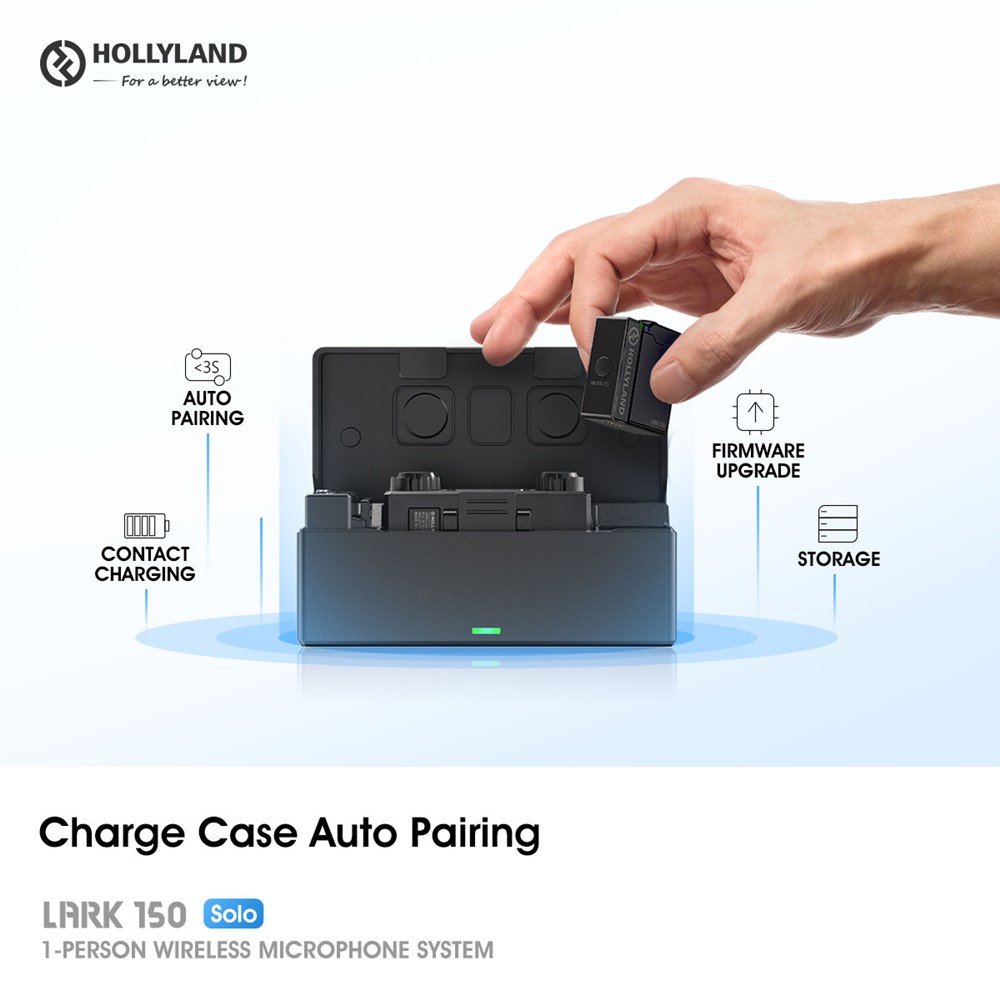 Enable images or just imagine how amazing the Hollyland Lark 150 looks like..
Click here for high-resolution images and MS Word version
New Lark 150 Solo & Lark 150 Single Transmitter Kits
Hollyland has today launched its LARK 150 Solo Kit at US$199 (MSRP) as an ideal option for content creators that feature a single person on camera. The Solo Kit can easily be upgraded to a two-person kit at a later date. The package consists of a transmitter and receiver, a lavalier microphone, a TRS cable, a 3.5mm user-friendly windshield, a USB Type-C to -A cable, and a portable storage case. A LARK 150 Single Transmitter pack is available at just US$89 (MSRP), ideal for users who already own a compatible receiver.

The original LARK 150 duo kit with two microphone transmitters is also available at a spring promotional price of US$279 (MSRP). Save up to $50 from the original price of $329.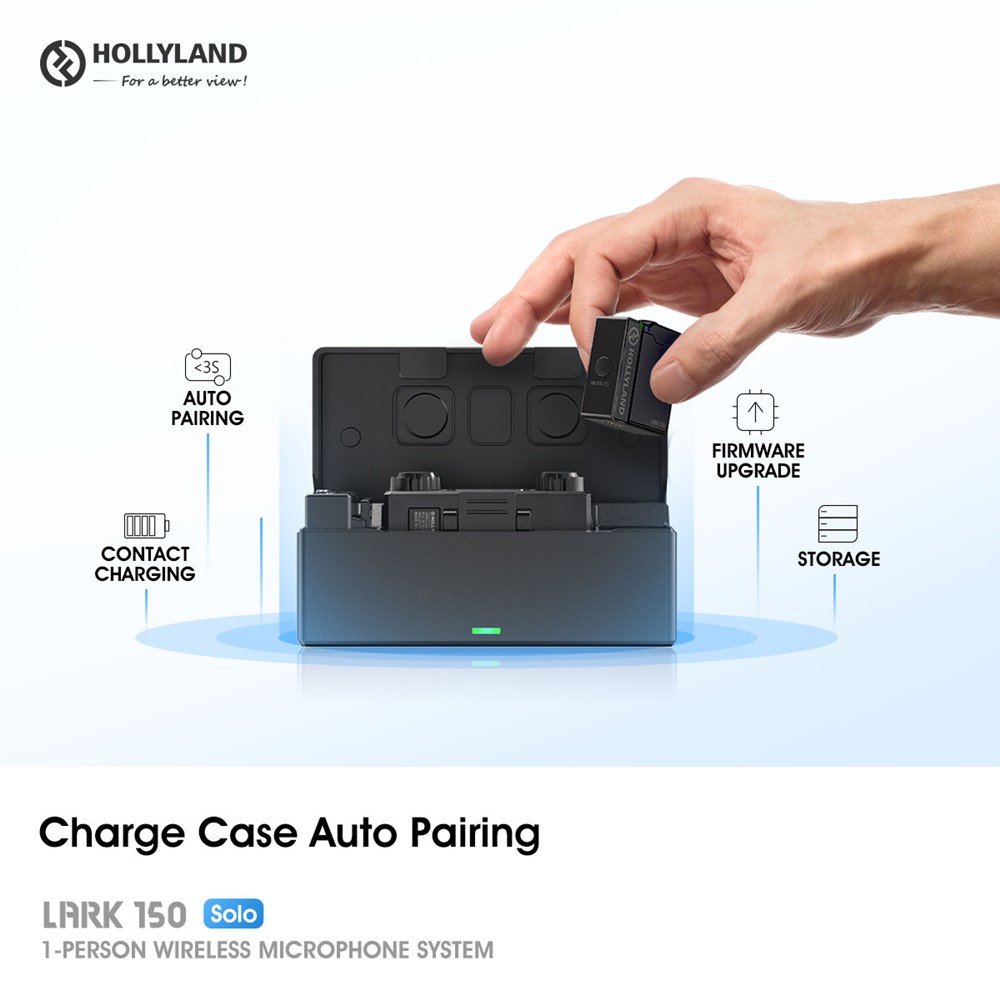 Unique Chamber Design for Professional Sound Quality
The LARK 150 is equipped with highly-sensitive omnidirectional microphones for the best audio performance. A specially designed anti-vibration sound chamber design for the built-in microphone cancels noise even when filming workouts and other physical activities. With a DSP (Digital Signal Processor) developed for intelligent noise cancellation, ultra-wide 20Hz-20KHz frequency response, an ultra-high SNR, the LART 150 is designed for filming on the go. The receiver's unique HD OLED display shows contextual information such as the device's current setup and the audio gain level, allowing for real-time audio monitoring and adjustment.

Special Signal Processing To Prevent Dropouts
The LARK 150 is uniquely designed for transmission stability during challenging situations. Even with the presenter partially blocking the signal by turning his body away, the device still reaches 20M transmission distance, effectively preventing signal drops when filming activities. Besides stereo and mono recording options and real-time audio monitoring, a 'safety track' prevents audio popping by recording in dual-channel, allowing post-processing to eliminate pops on any one microphone.

Up To 100M Wireless Audio Transmission Range and Ultra-Low Latency Recording
The LARK 150 enables ultra-low latency sub-5ms response at up to 100m transmission distance. Its smart frequency selection automatically chooses the best wireless channel available when powering on the device, while an 8KHz Frequency Hopping Spread Spectrum (FHSS) intelligently avoids interference while in use.

World's Smallest and Lightest Transmitter
Hollyland has designed the world's smallest and lightest microphone-transmitter at just 24mm³ and 21g, allowing it to be almost invisible on-person. The portable storage case also charges the transmitters and receiver, ensuring it's already ready to go when users reach the location. The transmitters and receiver offer up to 4.5 and 7.5 hours of battery life, respectively, while the portable storage case can charge all items up to 2.5X.